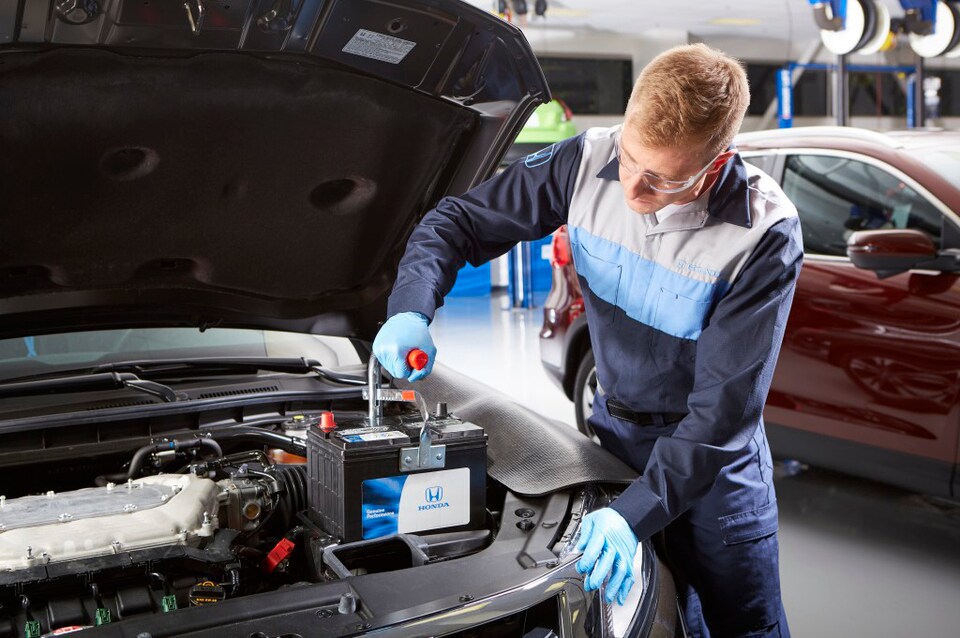 Caring for Your Honda Battery at Hendrick Honda Pompano Beach
Batteries are an important component of every vehicle, and our Honda service team ensures it stays in its best condition. We'll answer the most common questions about your battery and offer the services needed throughout your time of ownership. Our experts can keep you prepared for every drive by making sure you won't need to deal with major inconveniences that come with a dead battery.
You deserve to know your vehicle will always perform its best. Your battery might need work beyond routine service appointments, and our team makes sure we can offer it. We encourage you to reach out to our team whenever you think there's a problem!
Common Questions About Honda Batteries
How Do I Know When to Schedule a Battery Inspection?
You can do a visual inspection of your Honda battery to look for signs that you should schedule a professional inspection. You'll want to look for any cracks, bulges, welts, or similar deformities that show your battery is damaged. Any corrosion around the battery is another indication to schedule a Honda service appointment. The age of your battery might also warrant an inspection, but most problems can be found during a routine service appointment
How Long Will My Battery Last?
Car batteries generally last for two to five years. Your driving habits and environmental conditions can impact the lifespan of your battery. Our team will do a more thorough inspection after your battery nears the end of its useable life.
Signs My Car Battery is Almost Dead?
Noticeably dimmer lights, taking longer to get the engine to turn over, or a check engine light coming on could mean your battery is about to die. If you notice any of these while in the driver's seat, then it is time to schedule a service appointment for your battery.
What Comes in a Battery Inspection Service Appointment?
Our battery inspection starts a lot like the inspection you would do. Our team will look over the casing for any damage. After the visual inspection, we use tools to measure its charge and other similar traits. We can offer options for new batteries if the readings are not satisfactory. Knowing all the information gives you the best chance of enjoying the time you spend in the driver's seat.
Enjoy Your Drive with a Honda Serviced at Our Pompano Beach Dealership
Honda models are designed to be the most reliable on the market. Despite their inherent dependability, some parts of your vehicle will wear down over time. Batteries need to be replaced at regular intervals to ensure they continue to provide the best performance for your Honda Civic, Honda Ridgeline, Honda Pilot, Honda Passport, or any other Honda model. You can reach out to our team with any other questions about servicing your Honda.
Have a Question We Didn't Answer? Don't Hesitate to Contact Hendrick Honda Pompano Beach!
The Hendrick Honda Pompano Beach service center is staffed by dedicated experts who provide the best for your car, truck, or SUV. You can reach out with any questions about your Honda battery or other services your Honda might need whether that's an oil change, brake service or anything in between. We know the details of each model in the new Honda lineup to keep you feeling confident whenever you're driving.
Scheduling your service appointment can be done online, by phone, or in person. We make it easier than ever to get the work your vehicle will need. Feel free to contact our team at any time to learn why you should service with Hendrick Honda Pompano Beach.
Hours
Monday

9:00AM - 8:00PM

Tuesday

9:00AM - 8:00PM

Wednesday

9:00AM - 8:00PM

Thursday

9:00AM - 8:00PM

Friday

9:00AM - 8:00PM

Saturday

9:00AM - 7:00PM

Sunday

11:00AM - 6:00PM