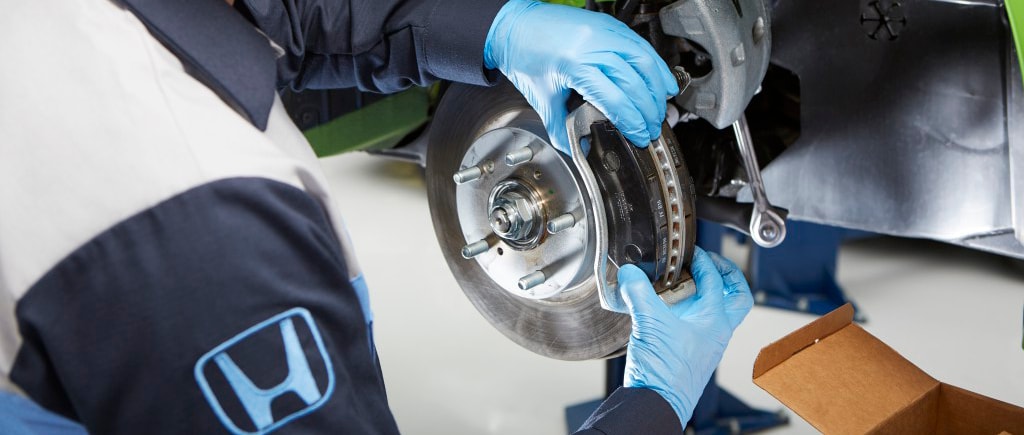 Caring for Your Honda Brakes in Pompano Beach, FL
The brakes on your Honda car, truck, or SUV will wear down over time, being more ineffective as time goes on. The experts in our service department want to help your brakes stay in their best condition by providing the inspections and services that are needed throughout ownership.
We make it easy for you to schedule your appointment online, giving you one less reason to hesitate when you think you should contact our team for a service appointment.
When to Schedule a Honda Brake Service
Our team can help you see when your Honda should come to our shop for brake servicing. If your brakes start to sound, smell, or feel strange when you press on them, it is a good time for you to visit our dealership. You can also ask our team to do a brake inspection so that we can let you know how much longer your brakes can go before they need to be serviced.
We are dedicated to providing you the best possible driving experience in your car, truck, or SUV, and ensuring you can stay safe with each component doing what it needs is essential to that experience.
Learn More About Honda Servicing by Contacting our Team
We are happy to answer any questions that you might have about caring for your vehicle, all it takes is for you to contact our team by phone, email, or chat to get started whether it's for an oil change, battery service or a tire rotation. You should never feel like your question is too small for us, so be sure to contact us whenever anything comes up.
The experts in our service center have been working on Honda models for a long time, giving them the experience needed to find and fix any issues that you might be having.
Hours
Monday

9:00AM - 8:00PM

Tuesday

9:00AM - 8:00PM

Wednesday

9:00AM - 8:00PM

Thursday

9:00AM - 8:00PM

Friday

9:00AM - 8:00PM

Saturday

9:00AM - 7:00PM

Sunday

11:00AM - 6:00PM